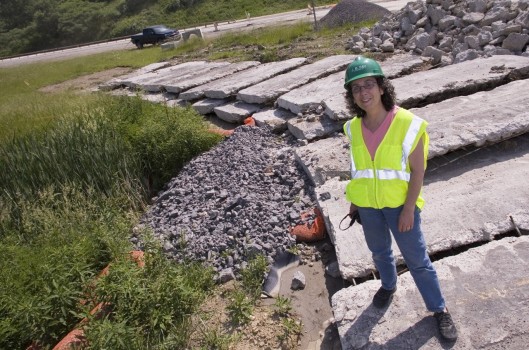 I have taught  at Allegheny College since 1982 when my work as an artist focused on things other than considerations of how art can facilitate community,  economic and environmental development, or how art can remediate landscapes and places, or transform people.
This all began to change in 1997 when I developed the Arts & Environment Initiative, an interdisciplinary arts-based program that provides Allegheny College art students apprenticeship training in the practices of community and environmental art. Through this program I bring my students and my community partners together to support collaborative public art projects that emphasize reuse, repurposing, environmental restoration and community revitalization. These projects often create opportunities for  youth engagement through the arts, and so provide opportunities that transform both people and place.
I enjoy collaborating with diverse groups, and helping local partners reach consensus and realize public art projects that celebrate place and local assets.  Some of my collaborators include the Pennsylvania Department of Transportation, the Pennsylvania Department of Environmental Protection,  the Pennsylvania Department of Conservation and Natural Resources, and the City of Meadville. I am at ease navigating the complexities of city governments and state agencies, and have found many amazing collaborators in these organizations as well as local businesses.